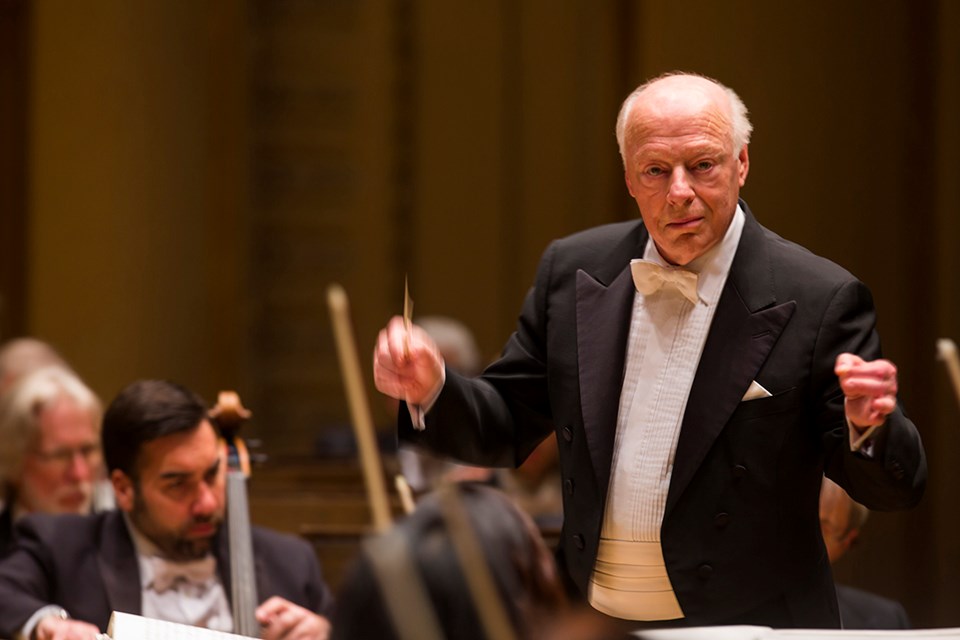 Haitink in the recording studio – a reminiscence

Former EMI producer, now president and CEO of the League of American Orchestras, recalls working with the great conductor
Many people wrote with great affection about their memories of Bernard Haitink, following his passing last week. I have read comments online from orchestral musicians speaking of their great respect for him, listeners for whom his recordings have been peak experiences in their appreciation of orchestral music, and audience members who have been transfixed by his presence on the podium.
I had the good fortune to work with Haitink during my years at EMI Classics as a record producer in the 1990s, and it gave me real insight into the way he worked. The role of a producer of classical recordings is interesting. You are not directly an interpreter, of course – yet you are much more than an intruder in the registration process. Most people have no idea the extent to which even the most famous musicians rely on a pair of trusted ears in the control room to advise, encourage and help them realize their vision for music. in a way that will stand the test. of time.
Haitink has made more than 450 recordings, including an avant-garde Mahler cycle, benchmark interpretations of most of the great works of the classical repertoire, magnificent recordings of opera, a few exceptions such as the pristine recordings of Debussy and Ravel from the Concertgebouw era, and his essential recordings of Elgar, Walton, Britten and Vaughan Williams for EMI.
The United Kingdom was his adopted country. The Queen bestowed upon him the title "Knight of the British Empire", and had he taken British citizenship he would have been entitled to call himself Sir Bernard Haitink. He had a deep affinity for English music; its natural reserve was perfectly suited to music that must speak with heartfelt feeling but resolutely avoid sentimentality – a combination that has sometimes eluded those beyond Britain's shores. To the regret of many of us, he never defended this repertoire in the concert hall, but his recordings of the fundamental works of the English repertoire are unforgettable. It was in this aspect of the recording that I was involved. I can only claim to be involved with a tiny handful of recordings from his massive discography, but he had an outsized influence on me, and we got along great even though he was almost 40. my elder.
It was always a huge privilege to be in the room with Bernard. He wasn't a towering presence off the podium, but he had profound wisdom, a wry smile (if you could get it out of him), genuine humility, and an utter devotion to achieving the best for music. It was a privilege to watch him work, and my little tribute here is a "symphony in three movements", each of which is a small episode with a lesson attached.
First movement: take responsibility
The orchestra musicians adored Haitink because he gave them what they needed to perform at their best and trusted them completely. I saw the demonstration of it one morning in the studio, while working with the London Philharmonic Orchestra. After a few takes of a particular move where a section never came together, I decided I had to ask him for a patch. Despite his long recording experience (or perhaps because of it!), Bernard had little time for the numbing repetition of studio recording at its worst. He hated doing short sections of music, preferring to create a sense of performance through the architecture of long takes – and every request for fixes from the control room was reluctantly accepted, if at all. It was therefore necessary to choose its moments. Here is a typical control room dialogue:
Simon, on the studio phone line: "Unfortunately he was never J-together. So we really need to patch that part."
Bernard: Big sigh. Long break. Look at the score. 'Should we?'
Simon: 'I don't think you'll be happy with what we have on tape. It's just not together in the brass.
Bernhard: 'Okay.' Hangs up the phone. "Letter H please." Start the music.
Here's an important nuance: most conductors would have made a comment to the orchestra like, "Brass please be careful to be together, especially in bars 135 and 136." He never said any of that. In fact, he told them absolutely nothing. But to the letter J, it was perfect. Why? Because he saw the inaccuracy of previous takes as his fault, not theirs. He knew that if he fixed it himself, the orchestra would be perfectly together.
After more than 30 years of observing conductors up close, I come back again and again to that random moment in my head. Most orchestras can do anything if they have a conductor in front of them who masters his craft, takes responsibility, and trusts the musicians to do their best.
Second Movement: Consummate Craftsmanship
One of the projects we did together was the complete recording of Britten Pierre Grimes in 1992 with the Royal Opera, Covent Garden. Pierre Grimes is full of pitfalls for the recording crew. It has complex ensembles, large choirs, an offstage dance group, an offstage church organ and choir, a long a cappella section without an orchestra, extensive sound effects, and plenty of stage movement. Despite a cast including some of the most famous British singers of the time, a choir and orchestra who knew the work inside out, and an excellent recording room, I was anxious about our ability to capture a work so complex with a conductor who I feared would only want to do takes of entire scenes and would resist breaking it up into more manageable chunks. And the technology of 1992 was far less useful than it is today.
"He had the ability to create an uncanny sense of direct transmission from the notes on the page to the performance that emerged"
I didn't need to worry. It was extraordinary to see Bernard's ability to pull together the forces in long takes, giving the actors everything they needed, eliciting magnificent playing from the orchestra, always propelling the music forward with every ounce of dramatic tension that the job demands. His artistry was so consummate you rarely noticed it – and it gave him the ability to create an uncanny sense of direct transmission from the notes on the page to the performance that emerged.
He only listened to the first take. After that, he went back to the podium, gave some notes, and we redid the whole scene. Most of these second takes are those that ended up on the final recording. I have never seen someone so efficient in their schedule, because there was nothing wasted. Why exhaust the singers and choir doing ten takes if you can galvanize everyone around you and make it a great one?
Movement 3: Create the sound
More than one person has commented on Haitink's ability to change the sound of an orchestra as soon as he raised his arms. This mysterious phenomenon is, in general, true of conductors – but never more so than with him.
At that time I was based at Abbey Road Studios in London, which, despite being famous for being where the Beatles made most of their albums, was ground zero during the frenzy of re-recording all the classical repertoire in digital sound in the 80s and 90s. At that time, almost every morning of the week, one of the London orchestras was in Abbey Road recording another classic CD.
"The sound he brought out of orchestras miraculously combined firmness, clarity and luminosity. It was drawn with precision, in pencil not in watercolour'
Typically, at the start of a recording session, you spend 20 or 30 minutes "balancing" the sound before you start laying down real takes. But with Bernard, it was often enough to position the mics correctly, push the faders up on the mixer, and the "Haitink sound" revealed itself. John Kurlander, the superb sound engineer who worked his magic on many recordings with me, often refused to take credit for the glorious sound coming out of the speakers, simply saying, "Thanks, but that's not me , it's Bernard".
And it was. The sound he produced from orchestras miraculously combined firmness, clarity and luminosity. It was drawn with precision, in pencil, not watercolor, carefully shaded in meticulously clean lines. I always felt that he gave musicians such security and space that they were free to focus on the beauty of the sound and the natural, unforced shaping of the music that he encouraged.
Listen to the final minutes of Vaughan Williams' Fifth Symphony as an example (you can find the full movement below on Apple Music – this section starts at 7'14"). At a boldly slow tempo, each beat moving in perfect unison , beautifully phrased wind solos backed by a silvery cushion of string sounds, it moves inexorably towards the serene conclusion. I'll never forget the way we all exhaled at the end of this take, and that's what that I will choose to remember him.
Coda
In 1997 I left EMI after almost ten years to become artistic director of the Philadelphia Orchestra. Bernard sent me a most touching handwritten letter to wish me good luck. It ends with "I wish you all the best, and…how I will miss you". As always, to you, Bernard. I have it in front of me as I write this. At the time, I couldn't believe such a great artist could be so generous to a young record producer with whom he had only made a handful of recordings. But it was him – he was very loyal to those around him who supported him, loved the music and cared enough to get it right. He was an artist of immense stature, whose performances seem even more human today if we consider them from the perspective of an era that often values ​​outward spectacle above quiet wisdom. Those of us who worked closely with him know how lucky we were.
Simon Woods is President and CEO of the League of American Orchestras. He began his career as a recording producer at EMI Classics, based at Abbey Road Studios in London, where he worked from 1988 to 1997. After joining the Philadelphia Orchestra as artistic administrator in 1997, he became CEO of the New Jersey Symphony. , Royal Scottish National Orchestra, Seattle Symphony and Los Angeles Philharmonic before joining the League in 2020.