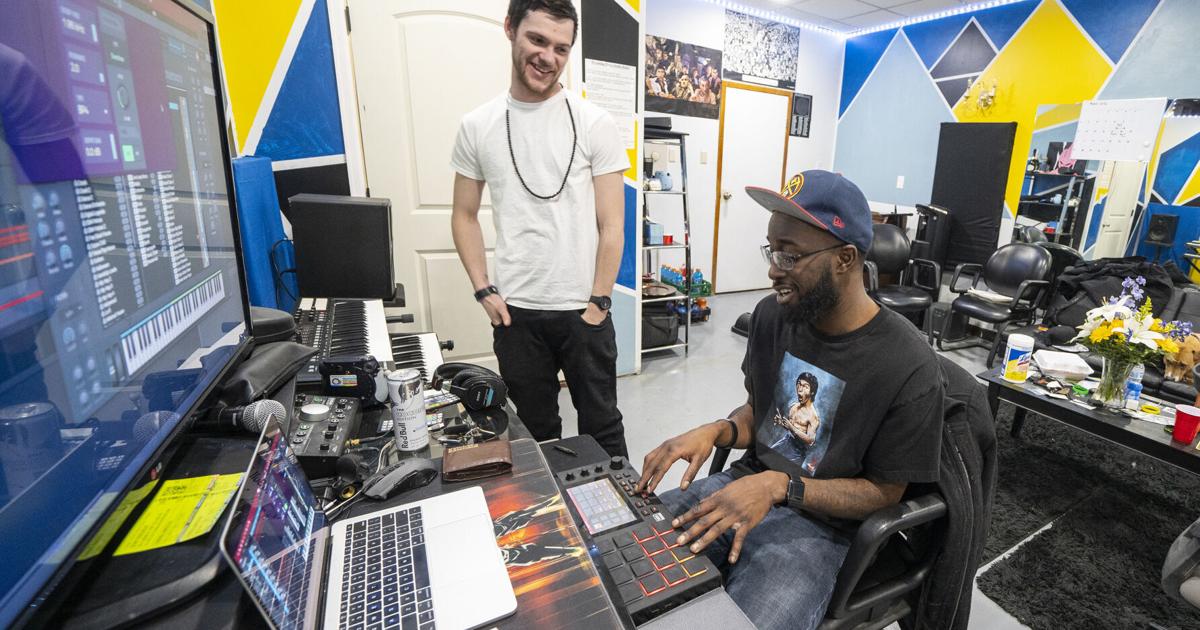 New Wyoming Wave Recording Studio Stays Professional | Features
Enter Wyoming Wave Studios and you'll come across a set of 10 rules printed and pinned to a bright yellow and blue wall.
Among them are "Come prepared", "Clean up after yourself", "Be honest (with your producer, but especially yourself)" and at number one on the list, "No, you can't smoke weed here. ."
Other rules on the list echo similar standards, which, however humorous the explanation, are in place for one simple reason: to maintain professionalism.
This is not a game, a joke or a one-time experience. Co-owners Devante Anderson and Jacob Hrasky are building a headquarters for regional musicians to develop their careers, and they plan to stay.
"We had to take it to the next level," Anderson said, as he sat behind Wyoming Wave's production board. "I don't want to say, 'Hey, come to my studio,' and there's no professional value or professional feeling when I invite you over.
"Now is not the time for you to come to my house and slack off or do anything. You come to a professional place, you come to conduct your business professionally.
Mentors of musicians
It's afternoon, and Anderson and Hrasky are shaking the ground floor beneath the Central Plaza Hotel with a new beat that earlier in the day took Anderson about 30 minutes to build. They are both producers and sound engineers, creating beats alone and in collaboration.
They teamed up and opened Wyoming Wave in December, despite the two having been plotting for years.
Last fall, Anderson and Hrasky released their first collaboration, "50/50," under their hip-hop aliases VanteSlayedIt and Pocketbook Prophet. Their teamwork is evident as they look into the Music Production Center – a small electronic box that lets them manipulate all the sounds they need, complete with drum pads and knobs to change levels – and chat minute touches to operate the track.
They laid the groundwork to create this studio, but it wasn't easy. None of them knew how to start a business, so they started at square one, teaching themselves the basic business and marketing practices needed to get noticed.
Already, they have about 35 musicians frequenting the studio. Producers expect from their musicians the same degree of respect that they put forward.
"Rule number three is 'Come prepared.' It should only cost you $50 to record because it shouldn't take me that long," Anderson said. "At the same time, $50 an hour is a reasonable price. A lot of people tell me that I should probably charge $100 an hour because of the quality."
No one comes to record until 3 p.m., but Anderson adjusts the microphone in the booth. Hrasky takes a brief tour of the one-room studio, where the instruments sit against the far wall – bass and acoustic guitars, which Hrasky will play as a session musician, though each will step in when needed. .
Together, they joke that they should charge more than just recording and mixing services, because their days aren't just about sitting behind the boards while musicians come and go. They do their best to coach their clients and be transparent in how they produce the song. Some artists have real talent, but even the best will miss a note and not notice it.
At a time like this, the duo will take a step back and show the artist what went wrong. If the artist wants to re-record it, they will go back to the section and start over.
Unfortunately, that's not as common a courtesy in the recording industry as one might think.
The fair treatment of musicians is one of the pillars on which Wyoming Wave is built. Anderson and Hrasky, along with other artists they record in their studio, have had their share of stumbling blocks trying to get their songs produced.
"I paid so much money in Colorado to have a few songs that I don't even like to this day," Hrasky said. "I can't change it or fix it because it's their policy. I didn't know anything about them. I didn't like when something felt like it was being hidden from me.
A surge of professionalism creates a serious atmosphere where wasting time is not welcome. Even though they may only be four solid months in a business, they try to behave like industry veterans. They will take care of you if you take care of them (rule number six).
There are times when they have to play the role of teachers, going the extra mile to guide inexperienced musicians through every step of the process. Mainly it's things they wish a producer had told them when they first started, from how to enunciate or extend their vocals in a section, to seating musicians and explaining all aspects of the contract before they sign.
Both have experience of not getting paid after a show, barely receiving royalties for their own song, or losing money trying to fund their own gig.
"You leave yourself a bad review," Hrasky said, referring to studios that don't respect their musicians. "You instantly set yourself up for failure by not doing the one thing you're supposed to do.
"They try to be mediocre just to get that money."
Over the past month, they've noticed more musicians migrating to them from recording studios in northern Colorado. The majority of their clientele currently consists of Cheyenne-based rappers and hip-hop artists, but they are looking to expand as much as they can.
Last weekend, after the final episode of Battle of the Bands at the Lincoln Theater, Hrasky approached the winners of the "Rock Band" category, Laramie-based punk band Big Dill. They hadn't recorded a studio record since 2020, so he invited them to start working at Wyoming Wave.
make your mark
Producers are well aware of the impact they can have on the city and its musicians. This is why they are not limited to one genre. Having to produce a hip-hop track is much easier than having to mix, master and play with all the instruments incorporated into a heavier rock track, but Anderson and Hrasky are up for the challenge.
Plus, being flexible opens them up to more business and the potential to leave an even bigger impact on the region.
The proof is in their first upcoming show at The Louise's event venue, the Wyo Music Showcase. The event is, to their knowledge, one of the very first rap/hip-hop shows to be held in Cheyenne.
The featured musicians are all artists who started recording at the Wyoming Wave within the last four months – rappers like Trey Wrks, 2une Godi, Compass, Young Fredrick, all of whom have since earned a spot on the chart – a chart in cork of pinned portraits near the entrance to the studio.
All rules pinned in Wyoming Wave remain in effect for musicians playing in the show. Everyone will have rehearsed at least five times, and all acts will be sober enough to put on a good show.
In addition to 15-minute performances from each musician, there will also be food, drink and a free raffle for the public to enter.
But the biggest relief was the response from the community. Different businesses and organizations have reached out to support Wyoming Wave, including Mary's Mountain Cookies, who donated a batch of cookies with their logos designed in frosting.
"I never thought I would get so much support for doing this. I just thought it was me against the world, baby. But no, I have such great co-workers," Anderson said.
Perhaps no one else is as excited for Anderson and Hrasky as the person hosting the showcase, Jazminn Jackson, owner of The Louise.
"Me and Vontae went to, I think, middle school and high school," Jackson said. "I've known him for a while. I knew he made music, but I didn't know it was that important.
When Wyoming Wave opened in December, Jackson was proud to meet them with flowers to celebrate. She is keen to support other businesses and develop the community in a new direction.
Wyoming Wave plans to last long into the future and continue to grow its customer base and presence as a Front Range recording studio. La Louise will be right by her side, with Jackson planning to turn this kind of musical showcase into a monthly event.
In his opinion, there are not enough musicians who have the chance to express themselves in the city, and this event is a big step to change that. Jackson is especially proud of the impact Wyoming Wave and this event will have in the local community.
"I'm so proud of my people, the black people who are doing this, making boss changes and getting into their own business," Jackson said. "I mainly wanted to organize an event or collaborate with them, mainly to spread the word about the music, but also to let people know that we are here."
When it comes to doing something different, it's best to refer to Wyoming Wave Studios rule number five: "Ideas are great, and I'll consider them (but if you don't know how to produce, STFU .)"
The Wyo Music Showcase will take place on April 23 at 7 p.m. Tickets are $5 at the door.